1:38 AM EST, Sat February 27, 2021
Last updated Feb 25, 2021
Portland Trail Blazers Trade Deadline Rumors 2021
Up to the minute news on Portland Trail Blazers Trade Deadline Rumors 2021
Blazer's Edge
Photo by Rocky Widner/NBAE via ESPN analyst Bobby Marks examined the assets the Trail Blazers' pre-deadline assets on Thursday. The Trail Blazers are headed towards next month's trade deadline with a limited amount of flexibility according to ESPN's Bobby Marks. On Thursday, Marks provided a rundown of the options that each team has as the deadline approaches. For the Blazers, Marks pointed to Portland's established pillars and meager trade assets outside of that group. In his analysis of the Blazers' trade assets, Marks explained that Portland's options...
ClutchPoints
The New York Knicks are looking to be buyers at the NBA trade deadline and they have their sights on multiple targets. Among the players they are possibly pursuing via trade, the Knicks are keeping close tabs on CJ McCollum of the Portland Trail Blazers, per Stefan Bondy of the New York Daily News. With […] The post RUMOR: CJ McCollum a new target for New York with team 'monitoring' Blazers guard appeared first on ClutchPoints.
Blazer's Edge
Raj Mehta-USA TODAY Sports If Blake Griffin reaches a buyout agreement with the Pistons, the Trail Blazers should emerge as a potential suitor. Former NBA All-Star Blake Griffin's tenure with the Pistons appears to be heading towards an abrupt end. On Monday, ESPN's Adrian Wojnarowski revealed that the two sides are working on parting ways prior to next month's trade deadline. Griffin's diminishing output and lofty salary could result in a complicated, yet possible, buyout. If Griffin does hit the buyout market, the Trail Blazers should be at the top of the...
Blazer's Edge
Stephen Lew-USA TODAY Sports Three Blazer's Edge contributors delivered their target lists for the upcoming trade deadline. The Trail Blazers are on the cusp of claiming homecourt advantage in the Western Conference with a 16-10 record. As the season progresses, Portland's roster is due for a boost in the form of CJ McCollum and Jusuf Nurkic's return to the lineup. Outside of that duo, the Blazers possess the potential to bolster their depth by making a move at the trade deadline. With that in mind, we asked a trio of contributors to highlight a trade and buyout...
Blazer's Edge
Photo by Adam Hagy/NBAE via Under President of Basketball Operations Neil Olshey, the Trail Blazers have a history of executing pre-deadline trades. The Trail Blazers have held their ground after a series of injuries to amass a 15-10 record through the first 25 games of the season. The Blazers' ability to stay afloat with CJ McCollum and Jusuf Nurkic out of the lineup is certainly noteworthy, but there is still a chasm between coach Terry Stotts' squad and the elite tier of the Western Conference. With the NBA trade deadline just over a month away, the Blazers will...
Rip City Project
The Portland Trail Blazers move into this year's trade deadline with a lot of uncertainty. They have had injuries up and down the roster, and the rotation still isn't truly set in terms of who gets significant minutes outside of the main guys. They have players out of form, players returning from injury, and then […] Ranking the Portland Trail Blazers best trade assets going into the deadline - Rip City Project - Rip City Project - A Portland Trailblazers Fan Site - News, Blogs, Opinion and More
Inquisitr
Since they acquired LeBron James in the summer of 2018, Portland Trail Blazers small forward Carmelo Anthony was frequently linked to the Los Angeles Lakers. Anthony and James, who are close pals and members of the infamous Banana Boat Crew, have been dreaming of playing together in one team from the time they entered the league in 2003. As of now, the Trail Blazers haven't shown any indication that they are planning to move Anthony before the 2021 trade deadline, but they could still change their mind about keeping him on their roster if they are presented with an intriguing offer.Click...
Rip City Project
With the NBA trade deadline approaching in just a month's time, the wheels are beginning to turn for fans interested in putting together potential deals. On Tuesday, Bleacher Report's Andy Bailey threw out a trade suggestion centered around the Portland Trail Blazers snagging New Orleans Pelicans guard Lonzo Ball in exchange for Derrick Jones Jr. […] Portland Trail Blazers: Why a Lonzo Ball trade doesn't make sense - Rip City Project - Rip City Project - A Portland Trailblazers Fan Site - News, Blogs, Opinion and More
Inquisitr
Cleveland Cavaliers center Andre Drummond is one of the players who are expected to be moved before the 2021 trade deadline. After the recent acquisition of Jarrett Allen, most people believe that the Cavaliers would try to flip Drummond's expiring contract for assets that could help them speed up the rebuilding process. One of the teams that could express a strong interest in acquiring the veteran big man from Cleveland is the Portland Trail Blazers. In a recent article, Zach Buckley of Bleacher Report came up with a blockbuster trade idea that would enable Drummond to form a "Big...
Inquisitr
Following rumors suggesting that the New Orleans Pelicans might be shopping Lonzo Ball around ahead of the March 25 trade deadline, a new report recommended a number of trade ideas for the fourth-year point guard, including one that would send him to the Portland Trail Blazers in exchange for Derrick Jones Jr. and a first-round pick in the 2023 draft. On Wednesday, Bleacher Report wrote that the Trail Blazers are currently a team with a "glaring backcourt need," given how starting two-guard C.J. McCollum recently suffered a fractured foot and is not expected to be back in action anytime...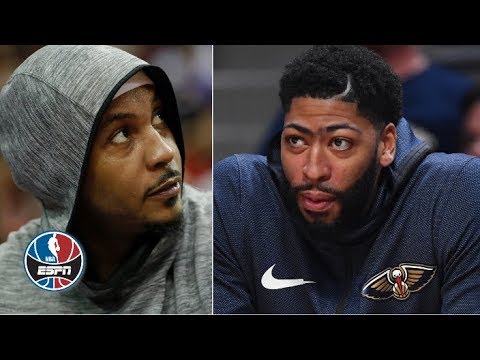 ESPN NBA insider Adrian Wojnarowski outlines the tough decisions teams like the New Orleans Pelicans, Portland Trail Blazers and Los Angeles Lakers have to make before the February 9th trade deadline. ✔